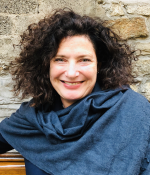 Jennifer Gordon is a holistic healthcare consultant who uses all-natural treatments to help restore physical wellness and mental & emotional balance.
Jennifer is a licensed, registered homeopath with the Irish Society of Homeopaths and the North American Society of Homeopaths, having over 15 years' experience in homeopathy, nutrition, lactation counseling, and herbal medicine. Jennifer's homeopathic clinic is located at 15 Upper Baggot Street, Dublin 4, Ireland.
An American originally from Los Angeles, Jennifer trained at the Irish School of Homeopathy, Dublin in the four-year professional program and then continued with another year of post-graduate study. During her years of practice, Jennifer has helped many individuals to improve their health and quality of life (see link below to client comments).
Jennifer has seen clients in her clinic from countries all over the world, including the US, Eastern & Western Europe, India and Asia.  She also provides consultations remotely via Skype sessions.
Jennifer works extensively with women during and after pregnancy for support with prenatal and postpartum conditions. She also consults with parents of newborn babies and young toddlers, who are seeking safe, natural and effective treatments for common ailments and health conditions. Jennifer has helped teenagers with physical and emotional conditions related to puberty & skin problems, stress from examinations, depression and other issues.
Jennifer has had several articles published on homeopathy in periodicals such as the Homeopathic Times, the Holistic Health Network, and Women Mean Business (WMB), among others. The Irish Times Health Supplement published a piece entitled "Integrated Medicine" about Jennifer's practice, and the integration of homeopathy with conventional medicine.
Jennifer regularly gives talks about homeopathy and the treatment of children, and about remedies for use during cold and flu season, at local schools, community centers, libraries, and businesses.